تاريخ:
۲۰ دى ۱۳۹۶
ساعت:
۰۲:۱۲:۱۱
Isfahan has been known for years as "half of the world" not only in Iran but also all over the world. By having more than 6000 historical sites dating back hundreds and thousands of years beside intact natural areas definitely granting this title to Isfahan is not surprising. Diverse kinds of handicrafts and fine arts have been passed on through generations in different cities of this province for centuries. All these reasons together have turned Isfahan into a permanent historical, natural and artistic museum. ( Iran Hotel )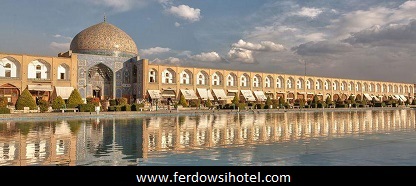 The remained mementos from past years, all show the existence of culture and civilization at this region even at third millennium BC. Ancient hills such as "Tepe Sialk" in the suburb of Isfahan is a good evidence to prove this claim. Tepe Sialk had been the ziggurat and praying place for ancient people residing in this area. This monument was discovered after archaeological excavations in 1931. The objects found at the wreckage of this ziggurat at Isfahan province are kept already at Louvre Museum of Paris, Iran National Museum at Tehran, Kashan Fin Museum and also a museum located beside this ruins. Valuable and fabulous architecture of Isfahan monuments has caused some of these places to be located amongst UNESCO list of World Heritage Sites. ()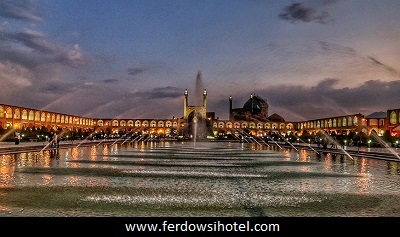 surrounded by buildings and mansions remained from Safavid era. In the past, this square was being used for holding various ritual ceremonies and also playing polo stick. Nowadays, it has become a public walkway and a place for holding national and religious rituals. Historical monuments located at this square are Ali Qapu, Abbasi Mosque, Sheikh Lotfollah Mosque and Qeysarie Gate. In addition to these buildings, 200 two-floor chambers and stores are located around this square in which you can find the bests of Isfahan handicrafts and souvenirs.


"Isfahan Historical Mosques and Cathedrals"

"Sheikh Lotfollah Mosque" is one of the most beautiful historical monuments of Isfahan which compel the visitors to admire its glory.

A significant number of temples and churches which were centers of worshipping the adherent of other religions at Isfahan are already amongst historical attractions of Isfahan province. Hakoup is the first church built by Christians in Jolfa district, Isfahan. However, the most famous church in terms of architectural and decorative paintings in this district is called "Vank" which was built in 1065.

Kouh Sangi fire temple is one of the oldest heritage of Isfahan, the remains of which is still seeable at Kouh Sangi Mountain. Niasar historical fire temple which has been placed at a high height cliff has a significant position amongst worshiping places. ( hotel Iran )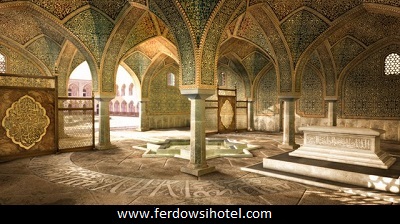 "Historical palaces"
Isfahan owes its famous to a great extent to Chehel Sotoun Palace.
Hasht Behesht Mansion is an unparalleled sample of palaces built in last years of Safavid Dynasty.
Ali Qapu Mansion with its unique architecture, is considered as a great mysteries of Safavid era.
In addition to these magnificent places, historical houses, gardens and minarets are also worth seeing.
All these together have caused Isfahan to be placed at this high position and the center of attentions amongst cities of Iran and annually attracts lots of foreign and domestic tourists to this area.

for more information Iran Hotel please visit that page.
www.ferdowsihotel.com