تاريخ: 1396/10/20 ساعت: ۱۱
Many tourists who book Iran hotels travel to Iran and then stay in hotels of Iran, are interested to go and walk in the deserts, you will find useful information from this article and you will find that why for staying in Iran deserts, you don't necessarily need to stay in Tehran hotels. Nowadays, many Tours in Iran can bring you to deserts which is one of the Tourist Iran attractions of this country. (Iran hotel)




In geographical terms, desert is an area which has converted to salt marsh due to the geographical location and the intense heat of the sun. Some deserts were formerly seas and lakes that have become salt marsh as a result of evaporation of the water.About a quarter part of Iran is composed of deserts that Dasht-e Kavir (Central Desert) and Dasht-e Loot (or Loot Desert) are the famous ones.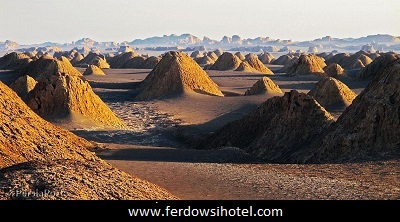 Dasht-e Kavir is the largest desert in Iran that has extended from the southern slopes of the central partof Iran. Salt lake, Kavir National Park, Khar Turan National Park, Bajestan, Masile, Maranjab and Rig-e Jenn Deserts are all located in the central plateau of Iran. Without exaggeration, Maranjab which is located in the northern part of Aran and Bidgol city in Isfahan province is a unique desert in the world. Diversity of animal species and vegetation has made this place a pleasant tourist site which attracts lots of tourists to this magical place annually.( isfahan hotel prices )



Rig-e Jenn is a district full of sand dunes. This district is located in the western part of Dasht-e Kavir, southern part of Semnan city and eastern part of Kavir National Park. There isn't any spring or water well in this area.Mesr Village (Mesr Desert) is located in Dasht-e Kavir and in the middle of the path from Damghan to Naeen and Isfahan. This beautiful village is known as one of the most noteworthy tourist sites of Iran.Loot Desert is surrounded by Sistan and Baluchistan, Kerman and South Khorasan provinces and is the 25th largest desert in the world. It was also recognized as the warmest place on the earth between years 2004 to 2009. Scientists believe that the reason of this amount of heat is the dark color of sand and the level of its dryness which absorb the sun's warmth.If you are looking for a soothed and soundless location to get relaxed, we recommend you to visit vast deserts of Iran as there is no noise pollution there. Sure, watching starry sky at nights in the heart of desert is too enjoyable for desert lovers. Desert trekking on the sand and under the sunlight is also another attractive activity that will bring you tranquility. ( Tehran hotel )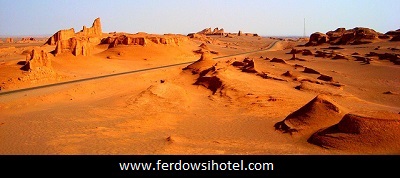 However, if you want to spend good times and have a memorable trip to desert, a professional team should accompany you. You can travel to desert with ease of mind with our professional desert team. Mehrdad Ghazvinian is a well-known name throughout the world for holding professional adventure desert tours. He is also known as the Father of Iran Desert and many desert groups have trained under his instructions. Sandboarding, trekking, desert safari and paragliding are of activities that can be included in your adventure Iran desert tour.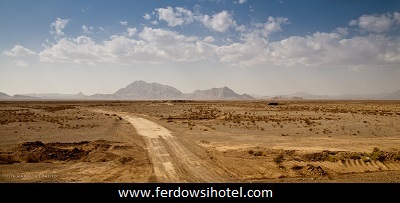 Another thing that sure will be interesting for desert lovers is staying at old and historical caravansaries or even camping in tents. Matinabad Desert Eco-Camp, Bali Hotel, Tida and Yata Traditional Hotels and Tabatabaee Guest House are some places we can recommend you to stay during your travel to Iran deserts . For more information about other Iran attractions you may visit that page.Making pleasant memories for you is Iran Passenger mission. So, you can trust us to choose the best for you.




for more information best hotels in tehran please visit that page.
www.ferdowsihotel.com
تاريخ: 1396/10/20 ساعت: ۱۱
Islam is the religion of kindness and its teachings emphasize strongly on this issue. One of these teachings is respectful reception of the guests. Islam condemns anyone who does not welcome the guests cordially. There is a famous proverb among Iranian that says a guest is loved by God. According to the trainings of this ethereal religion, guest has a special place among Iranian.(
tehran hotel
)
---
---
Hospitality, a moral character that Iranian are famous for, refers to the works done to provide relief and convenience for the guest. This feature has been an obvious trait of Iranian from many years ago even from ancient time.
So, if you have decided to travel to Iran, you can travel with peace of mind. Wherever you arrive, from large cities such as Tehran, Shiraz, Isfahan, Mashhad and Yazd to small villages, remote areas and even in the heart of desert, sure you will receive a warm welcome from Iranian. Contrary to the negative images portrayed by the media against Iran, Iranian like foreigners very much and welcome them kindly. This trait does not related at all to their economic status. In any economic situation, they try their utmost to provide comfort for you and help you in your affairs. They may invite you for a cup of tea, a meal or even bid you to stay at their house for a couple of days instead of hotel. They never want anything in return. They just like to show the real image of Iran and Iranian to the world. They want to demonstrate world that they are not spleenful and violent as media shows.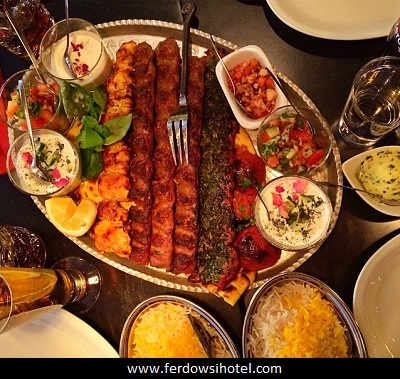 Iranians enjoy talking to foreigners. A thing that you should know is that, they are curious to know your opinion regarding western countries' policy towards Iran. Usually youths like to start conversation with you about the political and economic status of your country and also your lifestyle. So, don't worry about these questions and just answer them kindly. Sure at the end you will leave Iran with sweet memories and never forget their warm reception.
for more information
ferdowsi hotel booking
and
tehran hotel
please visit that page.
www.ferdowsihotel.com
تاريخ: 1396/10/20 ساعت: ۱۱
YAZD
Yazd is 427 miles south of Tehran (Tehran Hotels are known as best Iran Hotel. Therefor if you like to travel to the capital city of Iran, stay in best hotels Iran (hotels Tehran) and enjoy visiting this amazing historically city) and midway located between Isfahan and Kerman. Yazd is well connected to the rest of the country by Planes, trains and buses.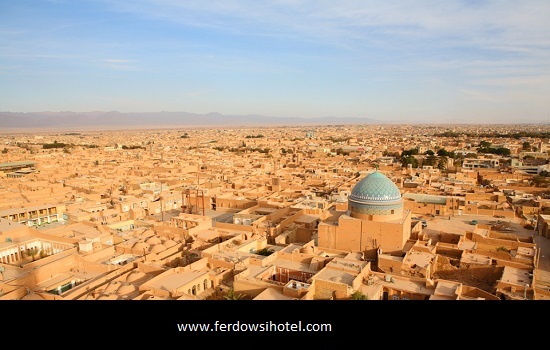 Language
People of Yazd province in Persian of spoken with some dialectal feature.
Religion
Before the arrival of Muslims in Iran, the people of Yazd were like Zoroastrians as well as of other parts of Iran with the extinction of the Sassanian rule in the first half of the Century. Most people in parts of Iran including Yazd Province, converted To Islamic religion, but some of them continued to pay royalties and remained Zoroastrians.
Climate of
Climate of Yazd province is two main causes of dryness. First, it is located on the Worlds dry belt, and is the far from the Omani and Persian Gulf and internal lakes and wetland winds.
Souvenirs and handicrafts
In addition to textiles and peculiarities of produce, special types of sweets are also provided Witch have many fans in all over the world and even around the world the main sweets in Yazd include Baklava, Pochtok , Lushnarigil , Promenx , Brass Bread, Haj Almond, Haj Pistachio and Haj Gharwo . Zolbia, Elephant Corners and a Variety of delicious, Deliciously cooked and Delicious sugary delicacies.
Top 10 Attraction Yazd
Amir Chakhmaq Complex, Jameh Masque Of Yazd, Dowlat Abad Garden, Lariha House, Khan Bazaar, Alexander Prison, Zoroastrian Prison, Mountain Park Yazd, Yazd Water Museum, Shish badgiri ab anbar, Markar Clock Tower, Saadat Factory, ( tehran hotel Zanbil mill, Qasr-e- Ayeneh.
Please Visit Our Site
http://www.ferdowsihotel.com
تاريخ: 1396/7/30 ساعت: ۱۲
Tehran
Tehran is the capital and main city of iran.in the last decade, uninterrupted constructions have changed the figure of Tehran. so It has been turned to a modern city with high buildings and towers. Recently, Because of the improving Iran political relationship with other countries, more passengers are eager to travel Iran due to different reasons and book Iran Hotel (particularly hotels of Tehran), to reply this demand, different types of hotels and residences have been established which are ready to welcome travelers by offering high quality services. Actually there are some hostels in Tehran, but we recommend you to book best hotels of Tehran if you want to enjoy and have good time in capital city of Iran and stay in any Hotel Iran.
You can reserve Tehran Hotels online in our website, Luxury hotels or cheap hotels of Tehran. on the other hand you can choose any hotel located in any part of the city for instance reserve hotel in central city. one of the facilities of our hotel booking system is that you can see Tehran hotel price list, their facilities and find about services like Bed and breakfast (BB).
Also There are a lot of attractions in Tehran which can be interesting for tourists, For instance: Melat Park, Chitgar Lake, Tehran museum of reservation art, Bazaar, Milad Tower, Golestan Palace , Tochal Telecabin , birds garden (in Lavizan park) and… for Tehran Hotels reservation online or book hotels of Tehran and accommodate hotels and visit Tehran, you may click on any hotels and visit Tehran, you may click on any hotel and then reserve the hotel you want.