تاريخ:
۲۰ دى ۱۳۹۶
ساعت:
۰۲:۱۱:۰۳
Tabriz
As another main cities of Iran, we can name Tabriz. In some periods of history, this city had been the capital of Iran and now it is the capital of East Azerbaijan province. This city is one of the main industrial centers in Iran. Tabriz weather in winter is too cold and snowy, but it has mild and pleasant summers. People in this city mostly talk to Azeri Turkish language. Tabriz hand woven carpet is the main handicraft in this city which is exported to all countries in the world and is too popular. (
tehran hotel
)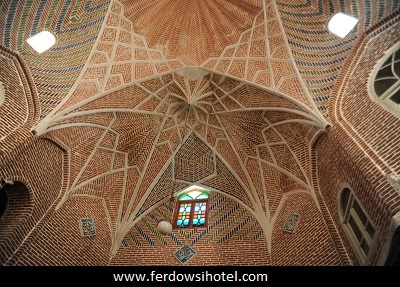 Although lots of monuments have been destroyed because of natural disasters like earthquake, some of them have still remained. The "ancient citadel of Tabriz" and "Kabood old mosque" are now the main historical places in Tabriz. You can visit a significant number of museums and old houses in this city such as Qajar museum, Azerbaijan Museum, Constitutional Revolution House of Tabriz (Mashrouteh museum), Document Museum, Iron Age museum, House of Seghat ol Islam, Haidarzadeh house, Behnam House (school of architecture) . (
iran hotel
)
"Tabriz old bazaar" is one of the main bazaars in Iran and Asia and with the area of about one square kilometer is the biggest covered bazaar in the world which was registered as a Word Heritage Site by UNESCO in 2010.This bazaar consists of several sub-bazaars like gold and jewelry, carpet and shoes bazaars. "Koofte" is the traditional food in this region. "Baslogh", "Pashmak" and "Nogha" are of delicious sweetmeats of this city.
Sareyn
Sareyn is a small city which is located in the west of Ardabil province and in a distance of 3 kilometers from there. This city is too famous among domestic and foreign tourists because of its pleasant climate in summers and the existence of several springs located in it. The water which comes from Sabalan Mountain contains sulphur particles, so it is effective in the treatment of bone and joint pains.
Sareyn is also known for its vast ski resort located in the hillside of Sabalan Mountain.
Never forget to taste "Ash-e Doogh", the traditional food and buy natural delicious honey in your trip to Sareyn.
for more information
ferdowsi hotel
please visit that page.
www.ferdowsihotel.com